On the evening of March 3, 2017, Hong Kong Corrugated Paper Manufacturer's Association (HKCPMA) held the 2017 spring festival celebration in Dongguan. HKCPMA members of early 100 paper product enterprises have attended this dinner, who will form a visiting group to Shanghai New International Expo Center for visiting SinoCorrugated 2017, which will be organized by Reed Exhibitions on April 11-14, 2017.
On March 3, 2017, the "2017 Spring Festival Gala Dinner" was held by the HKCPMA at Jiayi Building, Dongguan. HKCPMA Association President, Deng Guoyou has invited over 160 attendees to the event, including numerous influential figures in the paper manufacturing industry. Mr. Alex Wang, General Manager of Reed Exhibitions Shanghai Office, was also invited to be a guest speaker at the dinner, which conveyed the deep cooperation between Reed Exhibitions and the HKCPMA for more than 10 years, and expressed the ardent expectation of the upcoming SinoCorrugated 2017.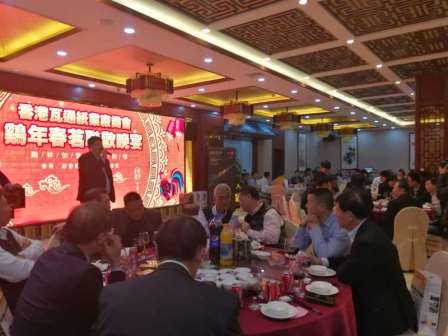 Cooperate with each other for over 10 years, and enjoy the grand gathering together
Established in 1965, the scale of HKCPMA has expanded from 10 to over 100. Among them, nearly 50% are manufacturers of corrugated boards and cartons, and the remaining suppliers of equipment and consumables. Since 1980s, association members have successively moved their production lines to Guangdong, particularly in Shenzhen and Dongguan. Upholding the tenet of struggling for the due rights and interests of the industry, the HKCPMA is dedicated to provide advanced technologies and market information to members who shall improve the business management & production strategies, and to overcome issues such as product oversupply, increasing production costs, and cutthroat market competition. At present, the HKCPMA and its members occupy a vital position in the southern China market. This sets a good foundation for cooperation between the HKCPMA and Reed Exhibitions.
The HKCPMA started partnerships with Reed Exhibitions 10 years ago, since then HKCPMA organized group visitors to SinoCorrugated every year. In November 2015, HKCPMA held a long-term cooperation agreement signing ceremony with Reed Exhibitions, indicating that cooperation between both parties became ever stronger. Just as Mr.Alex Wang put it at the dinner, we should thank associations such as HKCPMA whose consistent support cultivated SinoCorrugated to grow into a world well-known exhibition brand and a brand that was indeed able to serve the development of the global corrugated industry. Cooperation and friendship between both parties not only provides good opportunities and platforms to the manufacturers in the paper industry, but also actively promotes the healthy, long development of the whole paper industry.   
On April 11-14, 2017, the HKCPMA will, as usual, lead a member delegation to visit SinoCorrugated 2017. Decision makers of leading brands, including China Lijia Group, Come Sure Group, Aquatic Paper Products Printing Co., Ltd., and Yuanfa Paper Products (Dongguan) Co., Ltd., will attend this event,
2017 marks the 17th year for SinoCorrugated and a year of celebration, together with SinoFoldingCarton 2017, and China Packing Container Expo (PACKCON) 2017, the 3-in-1 mega expo will be held concurrently to cover the entire upstream and downstream industry chains. Reed Exhibitions has cooperated with more than 100 associations and media, including the HKCPMA, indicating that a spectacular grand meeting is coming. SinoCorrugated 2017, The exhibition scale will approach 110,000 sqm. featuring eight exhibition halls as well as five dedicated exhibition zones, namely, digital printing, preprinting, and intelligent plant, consumables zone, raw paper purchasing zone. Over 1,800 units of industry-leading corrugated machineries, folding carton-related equipment will perform onsite demosration. It is worth mentioning that SinoCorrugated 2017 will, for the first time, launch the special zone of the world's advanced digital printing technologies, where giants in the digital printing industry, such as HP, Landa, EFI, Handway, KBA, Kodak, and SUN Automation, will concentrate on showing their latest digital printing solutions in the industry. This grand meeting will bring more possibilities, and lead industry professionals to the stage of Asia and the whole world. Let's meet at Shanghai New International Expo Center on April 11-14, 2017.