Dinner Party of Malaysian Corrugated Carton Manufacturers' Association (MACCMA) Bollywood Night was held in Kuala Lumpur on November 4, 2016, and more than 600box makers' presidents and equipment suppliers attended. Thomas Huang, the Senior Vice President of Reed Exhibitions was also invited by the Chairman Lin of the MACCMA to attend such Dinner Party and delivered a speech, successfully presenting SinoCorrugated 2017, SinoFoldingCarton 2017 and China Packaging Container Expo 2017 to be held in the same period from April 11-14, 2017.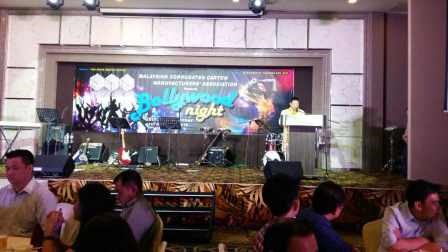 Unprecedentedly, more than 600 corrugated box makers and equipment suppliers attended.
At the Dinner Party of MACCMA Bollywood Night, President Huang said SinoCorrugated held by Reed Exhibitions has always been strongly supported by MACCMA and MACCMA organized many members to visit each exhibition. SinoCorrugated 2017 will be held in the same place-Shanghai New International Expo Center on April 11-14, 2017. It will certainly be a gorgeous feast for insiders and Reed Exhibitions also expects that MACCMA will participate in it again.
The 3-in-1 Mega Expo in 2017 will bring huge synergies. In Chinese Mainland, corrugated box makers s and folding carton manufacturers overlay more business operations and many corrugated box makers purchase folding carton manufacturing machineries to produce folding cartons and also more and more folding carton manufacturers, including color printing factory begin purchasing corrugated box manufacturing machineries to produce cartons, and we consider corrugated and folding carton industry as brother-sister industry and we hold their exhibitions in the same period, which will bring huge additional opportunities and values to our exhibitors and  visitors; and the products to be displayed in China Packaging Container Expo include packaging containers and packaging designs which will be visited and purchased by packaging users. SinoCorrugated and SinoFoldingCarton will help to solve production and manufacturing problems for packaging enterprises, while the China Packaging Container Expo will solve market and sales problems for packaging enterprises.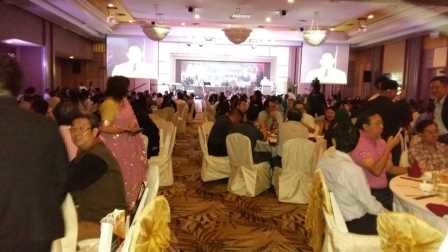 On the platform of 3-in-1 Mega Expo, packaging enterprises will have four harvests in one visit: Abundant production equipment and consumables will be displayed by corrugated box and folding carton suppliers; thousands of delicate packaging products and packaging designs  will be displayed in China Packaging Container Expo ; packaging users from food, beverage, electronic, medicine and such industry will attend the exhibitions. So packaging enterprises can capture all at once on the 3-in-1 Mega Expo.
Chairman Lin of MACCMA expressed on the spot that he will form a group to attend SinoCorrugated 2017
Chairman Lin said, members of MACCMA participate in SinoCorrugated every year and they are looking forward to industry communication opportunities provided by this exhibition. Reed Exhibitions has been engaged in corrugated package industry for several years and it has been active in different regions in this industry for recent years. It is well-known that, SinoCorrugated 2015 had an unprecedentedly grand occasion and attracted 40570 visitors in 4 days, increasing by 54.30% compared with that in 2013. However, in 2017, there will be more than 1,100 exhibitors to exhibit more than 1,800 equipments with high performance-price ratio, more than one thousand consumables, tens of thousands of elegant packages and package design in 110 thousand square meters exhibition area. It is expected that the exhibition in 2017 will attract 65,000 audiences including 8,000 overseas audiences. This year, MACCMA will organize a large-scale delegation to visit this exhibition and they are looking forward to see equipment with the latest corrugated package and design philosophy of low energy consumption, less manual work, high efficiency and high quality at SinoCorrugated 2017.
After paying a visit to OJI Carton Factory, "SinoCorrugated 2017" was a great affirmation
On the day of event, representatives of Reed Exhibitions-Miss Xing Zhenjie (Manager of International Marketing Department) and Mr. Thomas Huang (Senior Vice President) paid a visit to the branch of OJI (OJI) Carton Factory in Malaysia. President Li from OJI Carton Factory warmly received representatives of Reed Exhibitions and introduced distribution and other information of OJI Carton Factory in Malaysia. OJI Group is the largest paper plant group in Japan with 140 years history. Since 1970, it started to explore overseas market and it has settled in China, India, Australia, New Zealand, Vietnamese, Laos, Thailand, Malaysia and several other countries. The group emphasized on its development in Asia especially in China. After Shanghai Representative Office and Shanghai Dongwangzi Packing Co., Ltd. founded in 1995, it had developed more than 20 companies within 20 years. OJI Group has merged and acquired more than half of ownership of GS Papermaking Package (GSPP) Company . it has 6 corrugated factories and 2 third-level factories including Asian Carton Factory of OJI Group , Branch of OJI Group in Asia and several other branches.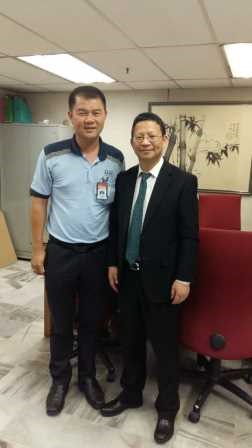 In recent years, GDP of Malaysia has a sustainable growth. The market demand of corrugated board is about 1.26 million tons and the annual output of corrugators is 1.06 million tons. Due to increasing market demands, Corrugated Factory will constantly explore new production program to meet market demands. At present, the Malaysia market has 160 production lines of corrugated board and 500 small and medium-sized enterprises are distributed in local market. President Li said, participation in SinoCorrugated hosted by Reed Exhibition in recent years brings them great harvest, so they are looking forward to visiting China again. They will participate in SinoCorrugated 2017 and communicate with peers in corrugated carton industry all over the world  to improve their factories.