The must-see event of the global packaging industry – SinoCorrugated 2017, SinoFoldingCarton 2017, and China Packaging Container Expo 2017 - is to be launched on the morning of April 11 at Shanghai New International Expo Centre (SNIEC), Shanghai, China. There have been 8077 domestic and international visitors to SinoFoldingCarton 2017; 14527 domestic and international visitors to SinoCorrugated 2017; and 3663 domestic and international visitors to China Packaging Container Expo 2017 who have visited the Exhibition on the first show day. The grand opening of the three major exhibitions will bring together the six renowned international pavilions, hundreds of domestic and overseas media and industry associations, more than 1,100 leading domestic and international machineries suppliers and tons of professional visitors!
The exhibition will occupy an area of approximately 110,000 square meters, covering 8 major indoor exhibition pavilions plus various outdoor pavilions from April 11 to 14.  It connects the entire industry chain of the packaging sector and covers a variety of premium carton and cardboard manufacturing equipment, paper bag packaging equipment, innovative packaging design and related consumables. It has received substantial support from more than 200 domestic and international trade associations and media organizations. Over 4,500 professionals from 77 domestic associations under the leadership of China Packaging Federation, together with over 70 renowned associations and agents delegations, will visit the exhibition. It is expected that nearly 65,000 domestic and international visitors will attend the exhibition in the upcoming 4 days of the event.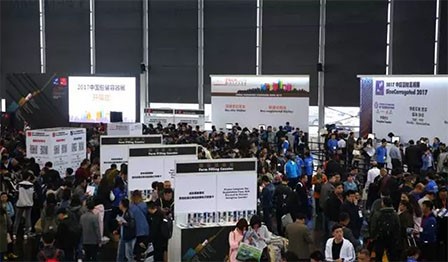 5 dedicated pavilions, 7 production solutions, 78 new products to be first released 
New technologies and ideas at SinoCorrugated 2017

After 16 years of constant development, SinoCorrugated has become an authoritative event in China and the globe, which has been elevated to an industry gathering any powerful brand shall not miss. In addition to the well-known domestic equipment suppliers, nearly 100 leading equipment manufacturers from more than 20 countries and regions will also showcase their advanced manufacturing technology of the corrugated packaging industry at the exhibition that will cover all representative equipment and technology of corrugated manufacturing. The profile of exhibits is wider in range and larger in variety; Here packing enterprises of all kinds of purchasing requests can find the best solution for their own development.

The convergence of intelligent is one highlight of SinoCorrugated 2017, where visitors will have access to the world's cutting-edge processing technology, popular solutions, and the 78 new products first released by world-renowned brands. Besides, the seven solutions, namely, corrugated pre-printing solutions, small batch customization and digital printing solutions, intelligent and efficient cardboard production solutions, efficient printing and post-print integrated production solutions, and the five dedicated exhibition zones will become new hot spots of the industry. Moreover, in the era of information and intelligence, visitors will be able to experience the efficient production in the advanced corrugated box manufacturing process exhibited in Germany, the United States, Italy, Spain, Japan, and India pavilions.

Exhibition planning, events and industry chain integration
A feast to the eye at SinoFoldingCarton 2017
As a professional exhibition on paper packaging post-print processing in Asia-Pacific regions, SinoFoldingCarton 2017 will also be launched on April 11. This exhibition will be larger in scale thus to be more appealing to visitors, where you can see all the brands both renowned and influential in the industry. Based on the successful experience of the past 11 editions, SinoFoldingCarton 2017 has formed its distinctive features in pavilion planning, events organization and industry chain integration. At the site of SinoFoldingCarton 2017, you will not only see complete and comprehensive packaging post-print processing equipment, technology and the overall solution from domestic and international market, but also appreciate the fresh and cutting-edge solutions. The three featured exhibition zones focusing on bag forming, paper, and consumables show the application of new bag manufacturing technology, equipment, paper materials and other consumables in an innovative manner, building for the visitors and buyers a highly efficient and quality platform for communication and cooperation.

A gathering of leading brands in the field of paper, plastics, metal, and glass industry
China Packaging Container Expo 2017, a platform to lead the trend of the industry
Exciting spectacles come from China Packaging Container Expo 2017 jointly organized by China Packaging Federation and Reed Exhibitions. With the theme of being "innovative, intelligent, environmental friendly", the Expo displays packaging products in four major categories of paper, plastics, metal, and glass. Nearly 200 leading packaging products enterprises from China, the United States, Japan, Finland, Sweden, Indonesia, Taiwan, and China Hong Kong gather here to display thousands of smart and green packaging solutions. The Expo covers packaging integration solutions, biodegradable packaging materials, traceable packaging, anti-counterfeit labels, nanotechnology, high-barrier composite packaging new materials, antibacterial new materials, creative packaging structure and designs. It also provides "Military and Civilian Special Packaging Exhibition" to display advanced military packaging technology and products, while the onsite events gather together internationally outstanding packaging design works and excellent designer brands, the three-day event is expected to attract 8,000 decision makers from packaging R&D, procurement and marketing of end users from food, beverage, daily chemicals, daily expenses, electronics, home appliances, gifts and pharmaceuticals, etc.
To broaden your horizon and exchange at more than 40 site events
The organizers launch more than 40 forums, summits and events around the industry hot topics at the site: World Digital Conference, World Corrugated Industry Conference, TAPPI Forum, Packaging Industry 4.0 Forum, China Flexo Forum 2017, as well as many other conferences. While appreciating the abundant exhibits, visitors will also obtain and exchange on rich and latest market information. The exciting onsite events such as Carton King creative product display, Graduate Show of Shanghai Universities, Corrugated Fashion Show, etc. with unique and innovative paper packaging show. Experts from "SinoCorrugated Expert Committee" will give lectures free of charge at the exhibition, so as to provide visitors with practical guidance on sales, management, technical operation, and whole plant infrastructure planning. The International Day events will showcase exotic cultures from India, Latin America and Iran. Moreover, the organizers also arranges golf experience games and leisure activities such as ""sunshine physical therapy" to bring a more pleasant exhibition experience to visitors.
More exciting news will be here at SinoCorrugated 2017, SinoFoldingCarton 2017, and China Packaging Container Expo 2017! Make sure you don't miss it!