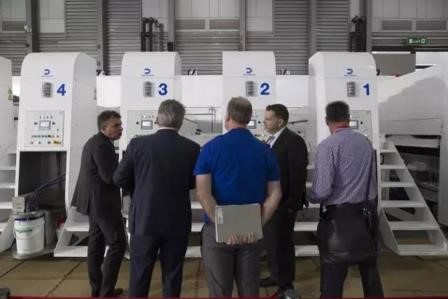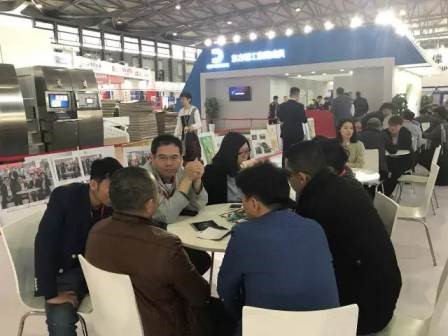 Guangdong Dongfang Precision Science & Technology Co., Ltd. (stock code 002611, "Dongfang Precision") and Zhengzhou Huaying Packaging Co., Ltd. (stock code 839272, "Huaying Packaging") have reached comprehensive strategic partnership.
▲President of Dongfang Precision Ms. Qiu Yezhi (1st from the left) and executive team of Huaying Packaging
Recently, Dongfang Precision and Shanxi Baoli Huaying Packaging Co., Ltd. ("Baoli Huaying"), a company 100% owned and controlled by Huaying Packaging, signed an order of high-end corrugated carton packaging printing equipment sets, with contract value exceeding RMB 30 million. This is a massive upgrading following the critical partnership the two parties have reached earlier! Dongfang Precision is a corrugated packaging equipment provider of advanced international level, while Huaying Packaging is a corrugated packaging company with obvious district advantages and influence. The cooperation upgrading of the two companies will bring positive long-term influence on their continuous and stable development.
In this strategic cooperation, Dongfang Precision not only provides a variety of world-class high-end printing equipment, but also gives full play to its advantage as a "comprehensive solution provider of intelligent corrugated packaging equipment", planning equipment selection, intelligent production management system, partial design and whole plant design with the packaging management team of Huaying Packaging, once again demonstrating strong professional ability and the spirit of excellence and pragmatism.
Huaying Packaging is a large-scale packaging enterprise in the Central Plains region, having the advantage in market scale, company core competitiveness etc. It has established cooperative relations with universities such as Zhengzhou University and Henan University of Science and Technology. The Company owns independently core intellectual property rights, software copyrights and other unique knowledge. It has developed and completed the transformation of 25 scientific and technological achievements. The company has won "Top 100 Packaging Companies in China", "Top 50 Packaging Companies in China", "High-tech Companies in Henan Province", "Top 10 Companies Caring for Migrant Workers", "Company of National Production Security Standards Level 3", "Governing Member of Packaging Technology Association", and has repeatedly been acclaimed as excellent supplier of the year by influential groups, such as Mengniu, Gree, and Midea.
The project Baoli Huaying is investing in Baoji City, Shanxi Province covers an area of around 93,100 square meters, with a total construction area of 130,900 square meters. After its completion, it will not only become one of the largest packaging production enterprises in northwest China, but leap to the leading position of clean production through its advanced production equipment and production procedures that will bring down material consumption and pollutant emission. The project will improve the whole industrial chain in Northwest China and promote the formation of leading companies in the industrial area.
The comprehensive and strategic cooperation this time is a significant upgrade of the close partnership between Dongfang Precision and Baoli Huaying, and will lay a solid foundation for the strong growth momentum of both sides in the corrugated packaging market of Northwest China.