On March 3, Glory 1604, China's first industrial corrugated board digital press, was unveiled at Fushan Paper, the leading paper manufacturer of China. Glory 1604 was developed and manufactured by Handway under Hanglory Group, which breaks the monopoly position of overseas brands.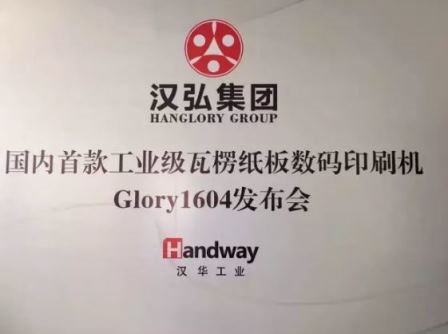 China's First Industrial Corrugated Board Digital Press Glory 1604 Release
Zhang Yaoquan, Executive Vice Chairman and Secretary General of China Packaging Federation Paper Products Committee, Zhang Qi, Executive Vice Chairman of China Packaging Federation Paper Products Committee and China Packaging Federation Paper User Committee, Wu Yunbo, Executive Deputy Secretary General of China Packaging Federation Paper Products Committee, Huang Zhaojun, Senior Vice-President of Reed Exhibitions, Ye Pengfeng, General Manager of Fushan Paper and Zhang Zheng, Executive Director of Hanglory Group, were present at the release.
From left to right: Wu Jie (host), Zhang Qi, Zhang Yaoquan, Ye Pengfeng, Huang Zhaojun and Zhang Zheng
It is known that Handway started the research of corrugated board printing in 2013 and fully mastered Single Pass technology for industrial production in 2015. In 2016, Handway's Glory 1604 released and passed A/B test. After stable operations for half a year, the project was declared successful.
As China's first and world-class corrugated board press, Glory 1604 is comparable with the products of world-leading brands like BOBST, HP, SUN and EFI. Thanks to the cooperation with KYOCERA China, the world-leading spray manufacturer, Glory 1604 is equipped with 40 (56 at most) industrial sprayers. With Single Pass non-contact technology, it features 4-color printing, maximum speed of 150m/min (490 ft) and accuracy of 600*1,800dpi, exceeding the world standards. As a highly intelligent press, it features 1-minute preparation and 2-minute order switch and is also capable of automatic order placing, rapid order receiving, smart analysis and smart image processing. Boasting the function of vacuum absorption with electrodeless adjustment and automatic regulation of sprayer height for the thickness of corrugated boards, it is applicable to 99% of the corrugated papers at the market. Besides, Glory 1604 is also capable of automatic inspection on board warpage, which guarantees the security of sprayers and helps improve the yield of good products.
At the release, Market Manager of Handway gave an overall introduction of Glory 1604 performance and features, conditions of Hanglory and its branches and the industry trends of digital press. Hanglory Group, as a high-tech enterprise focusing on digital press, is now controlling Handtop, Homer, Cntop, Hongrui Precision and Handway and engaged in the digital printing for sectors like advertisement, textile, garments, PCB and corrugated boards, with all the product lines taking the lead in the industry.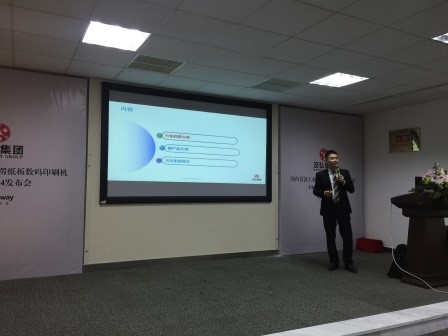 Wu Jie introducing new products
To popularize the knowledge on digital printing and the new production mode, the release provides a session of talks, at which Mr. Huang introduced the history of digital printing and praised Glory 1604 as the fastest cardboard digital press; Mr. Zhang revealed the technical core of digital press and gave an overall description in part selection and customer service; Mr. Ye shared the knowledge in equipment selection and made in-depth comparisons between traditional printing and digital printing based on experience and data; Mr. Zhang shared the changes of corrugated packaging industry with participants and analyzed the development trends of digital printing technology for the next five years.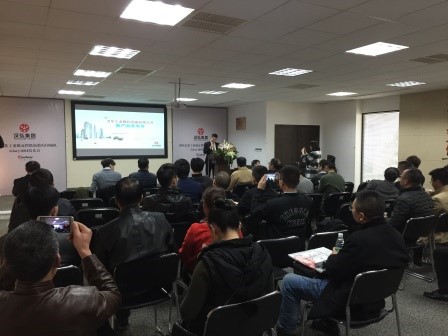 Release
Besides Glory 1604 to be unveiled at SinoCorrugated 2017 (Stand C70, Hall N4, 775m2) in Shanghai New International Expo Centre on April 11, Handway's Glory1601 (single-color digital press) and HighJet2500 (scanning corrugated cardboard press) will be also on public display.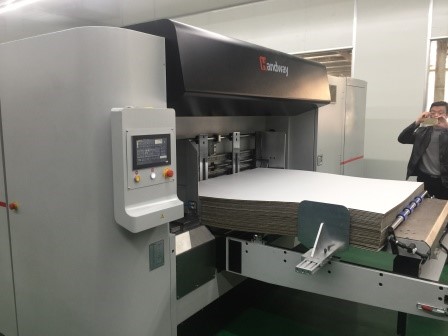 Plant visit