Recently, China Zeroen successfully released its Suba 300 in Shanghai, which not only aroused a sensation in the industry, but also attracted close attention from the media. April 11 to 14, China Zeroen attended SinoCorrugated 2017, when General Manager Zhu Shaohu received a collective interview of media gathered at Zeroen Booth to have a close look at the success of Suba 300, and listen to the interpretation of Zeroen people on product R&D and its pursuit of ingenuity. It was broadcast live on the network platform of Reeds Exhibition.
Now let us have a look at the secret of Suba 300 and some planning and experience of Industry 4.0 and whole plant solutions revealed by the general manager of China Zeroen.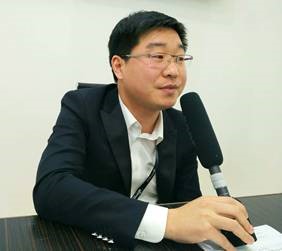 Zhu Shaohu, General Manager of China Zeroen
General Manager Zhu Shaohu interviewed by a number of media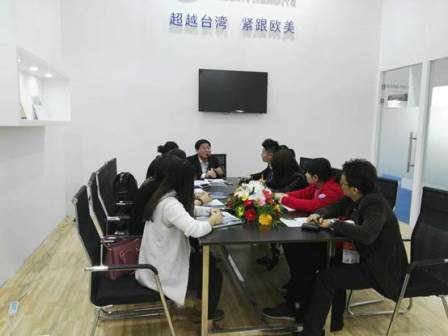 Q: What are the differentiated competitive advantages of Suba 300 currently released by China Zeroen as compared with similar products in China?
A: It is a new generation of high-end smart corrugated line that has attracted widespread attention in the whole industry. It is no exaggeration to say that the launch of this production line will change the pattern of domestic corrugated industry that relies largely, or entirely for those high-end and smart, on imported device. But now, our Suba 300 has broken through such a bottleneck. It is the first step, and in 3 to 5 years, we will release the even more advanced Suba 350 and Suba 400.
It takes China Zeroen 5 years to launch Suba 300, but we've been engaged in the system for 11 years and had a profound understanding of the needs of the domestic market and the national conditions for developing such a corrugated line. Suba 300 overtakes its competitors mainly in full-line intelligent and servo driving. Its differentiation competitive advantages over domestic products also lies in energy conservation, environmental protection, and high efficiency, and the gap with European high-end intelligent corrugated equipment is further narrowed. We will invite you to the site to see the practical application of Suba 300 after it is officially launched. We are confident in it to excel all domestic corrugated lines, including of Taiwan, and match that of Europe.
Q: What's your whole plant planning and long-term planning for Industry 4.0?
A: Industry 4.0 is a popular topic in China and Zeroen is honored to have involved in it. It took an important step in the development of industrial 4.0 when setting up Guangdong Zeroen in 2011 and established strategic partnership with Siemens China the same year, and the only one in China's corrugated industry so far. The corrugated line applies the most cutting-edge product of Siemens in its dry end, which the Siemens Germany headquarters has attached great importance to and sent senior engineers to us.
As a strategic partner of Siemens, we've also received a lot of technical support and learned the real Industry 4.0 in Germany. We've gone to Germany several times on this, including Hannover Messe. We find, after comparing the advanced Industry 4.0 abroad and the actual situation in China, the substantial gap in between. That's why we've worked with Siemens since 2011 in industrial control components of the product, such as PLC and high-end industrial communications products. We were strongly supported by Siemens in the development of Suba 300, and therefore striking a great step forward in Industry 4.0.
For us, cooperation with Siemens is not the whole story, as it only deals with equipment automation. We set up two companies in 2015 and 2016: Guangdong Eonup Software Information Co., Ltd. and Guangdong Saideke Intelligent Technology Co., Ltd., with the former committed to the creation of information platform and the latter, to intelligent logistics system. Combined with the control system and corrugated line, they achieve real intelligent plant system in the packaging industry. Subaru 300 provides customers with a holistic solution. we now set up a special team to industrial 4.0 as the standard, specifically for the future of intelligent factories for customers to do the whole plant planning. We now set up a team to do the whole plant planning in line with Industry 4.0 standards for intelligent chemical plants in the future.
Q: How do you evaluate your experience in SinoCorrugated 2017?
A: It is fruitful. Many large manufacturers expressed their desire to long-term cooperation, and some exchanged with us from in-depth in the exhibition. We stress long-term stable cooperation, and not just short-term cooperation on orders. We will definitely exhibit at SinoCorrugated to be held in Dongguan, also where we've headquartered, next year. We look forward to more extensive cooperation, including in the release of products, with Reeds Exhibitions and becoming its long-term partner.
As is proved, the success of China Zeroen is not out of thin air. Instead, it has got clear and definite goal since the beginning, and formed its own unique understanding of Industry 4.0 in the packaging industry. We have every reason to believe that following these planning and strategic objectives, China Zeroen will make steady, solid progress, and become a leader in the industry.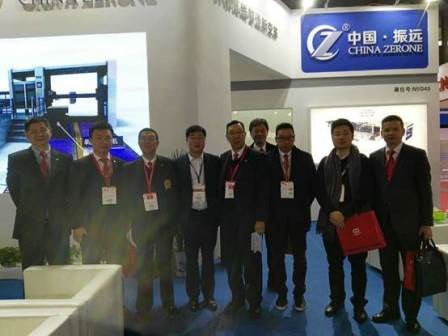 Customers visiting China Zerone Booth and having a picture taken to mark the occasion