Do you still fret about the monotonous printing? Are you still worried about ink jet, imaging and other issues? With the personalized and customized development trend of the digital printing market, the industry leader Kodak has never stopped improving the digital printing technology, and solved one after another problem, always bringing surprise to people. It will take part in the SinoCorrugated 2017 scheduled for April 11-14, 2017 to share cutting-edge technologies and exchange views on the development prospects of the industry with others. This veteran will share joy and success with you! What sophisticated technologies will be on display? Let's have a look first!
ULTRASTREAM Will Bring Commercial Inkjet Printer into the Mainstream Rank of Commercial Printing and Packaging
Kodak announced at Drupa 2016 that it would launch the next generation inkjet printing technology platform - Kodak ULTRASTREAM Inkjet Technology. Based on the highly recognized Stream continuous inkjet technology, ULTRASTREAM will bring commercial inkjet printer into the mainstream rank of commercial printing and packaging. By means of smaller ink droplets and accurate ink drop location, this technology features higher resolution ratio, cleaner lines and higher definition, demonstrating the evolution of inkjet printing technology. ULTRASTREAM will raise the bar in the high-speed, high-resolution inkjet printing industry, broaden the application range of printable graphic arts and expand market coverage. It will join hands with the existing Kodak Stream technology on the market to provide customers with a variety of options for platform and meet the needs of various applications.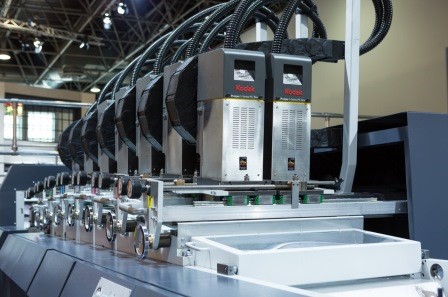 With Excellent Image Quality and an Extensive Range of Printing Width, ULTRASTREAM Meets Diversified Customer Requirements
ULTRASTREAM targets the printers and customers demanding a superior image quality to integrate into their production systems. Its high-resolution writing system includes a modular print head that can be configured in varying widths ranging from 20.32 cm to 246.38 cm to suit the specific application. Kodak's Digital Front End (DFE) was also launched along with ULTRASTREAM. As a dynamic and flexible solution, DFE can meet commercial printers' needs for configuring the commercial inkjet printer into their respective workflow.
With High-speed and High-resolution Printing in Extended Color Gamut, ULTRASTREAM  is "Considerate Intimate" of Customers
ULTRASTREAM enables high-resolution printing of 600*1800dpi at speeds up to 150 meters per minute on the widest variety of paper and plastic substrates, to address even the most demanding applications including narrow-web labels and packaging. Kodak's micro-milled nano-particulate inks deliver 30% wider range of color gamut, and with the extensibility of the technology, can also provide spot colors and an extended color gamut to further broaden the scope of Cyan, Magenta, Yellow and Black (CMYK) printing.
In view of the outstanding performance of ULTRASTREAM inkjet technology, Philip Cullimore, President of Kodak's Enterprise Inkjet Systems Division, said: "Kodak has once again raised the bar in inkjet printing. With availability to start integration of this technology in 2017, we look forward to discussions with OEM partners to plan new products built with this technology, and with printers to understand the first applications that they would like to see us address."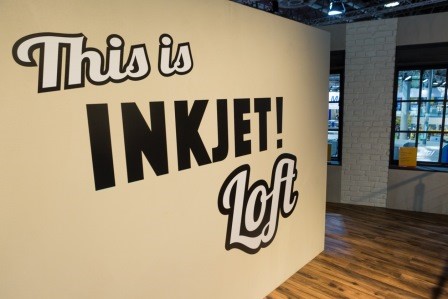 Kodak Prosper 6000C Digital Press Prints at 300 Meters Per Minute
Prosper 6000C press with inline finishing prints at 300 meters per minute. The press will be running with a MEGTEC automatic roll splicer and multiple inline finishing solutions for two different applications: magazines and catalogs printed on lightweight coated paper and finished with a Manroland web system FoldLine; and commercial applications that will be post coated with an i-WEB post coater and finished with a VITS multicut variable servo sheeter.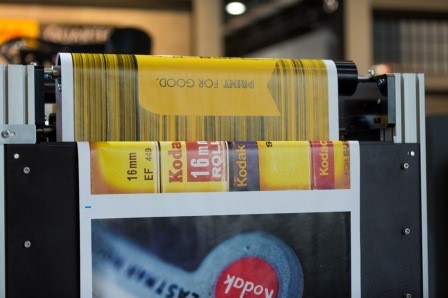 Extended Color Gamut + Varnish (XGV) Technology for Flexible Films to Further Extend Gamut of CMYK
At Drupa 2016, the Extended Gamut + Varnish (XGV) technology for flexible films produced on narrow-web printing machine was also demonstrated for flexo, gravure and offset printers. Featuring seven of Kodak's S-Series Printing Systems printing on flexible films, which are capable of printing CMYK and an extended gamut of CMYK plus orange, green and violet to match a broader spectrum of Panton Colors used in label or package printing, the demo also had an additional station printing water-based digital varnish. This demonstration utilized environmentally friendly, aqueous inks, bonding on to flexible films, which is unique in the industry.  With Kodak's Stream inkjet technology – running at up to 200 meters per minute - this system is ideal for integration into traditional print processes to create a hybrid system that maximizes the advantages of both digital and analog printing for a variety of film based packaging.
Kodak continues to reduce commercial printing machine's cost of operation through ease of use, serviceability and device availability. ULTRASTREAM will deliver lower running costs, improved image quality, the ability to print on a wide variety of paper and packaging substrates with unparalleled productivity, while offering the flexibility and value of digital printing to meet various customer requirements. The high-speed Prosper 6000C press provides customers with inline finishing solutions, a strong impetus to commercial digital printing. The Extended Gamut + Varnish (XGV) technology for flexible films makes it possible to realize printing in wider range of color gamut.
Users are welcome to explore opportunities to create new applications by integrating Kodak's 124.46 cm inkjet Writing System in their production processes. This wider Writing System brings the world's fastest inkjet printing to the wide format market, including home decoration and signage. This is inkjet printing technology! Its ability to print customized designs in short runs, eliminating inventory with just-in-time printing while achieving the durability and robustness comparable with gravure printing, will change how home decoration and other wide format printing are delivered in the future. 
 [Tips]
Kodak is a technology company focused on imaging. It provides – directly and through partnerships with other innovative companies – hardware, software, consumables and services to customers in graphic arts, commercial print, publishing, packaging, electronic displays, entertainment and commercial films, and consumer products markets. With its world-class R&D capabilities, innovative solutions portfolio and highly trusted brand, Kodak is helping customers around the globe to sustainably grow their own businesses and enjoy their lives.
For more information on Kodak, please visit kodak.com, follow the Twitter @Kodak, or the Facebook at KodakNow.
Kodak has all along maintained a good relationship with Reed Exhibitions. The SinoCorrugated 2017, SinoFoldingCarton 2017 and China Packaging Container Expo 2017, sponsored by Reed Exhibitions, will be staged at Shanghai New International Expo Center during April 11-14, 2017. On the occasion, Kodak will share its cutting-edge inkjet technologies with you. The advanced technologies of the industry will be on display soon. We are waiting for you in 2017.
You will surely benefit from the simultaneous launch of SinoCorrugated 2017, SinoFoldingCarton 2017, and Sino Packaging and Containers 2017 in one visit:
Visit SinoCorrugated 2017 to browse through well-known suppliers' brands of global corrugated equipment and consumables, cutting-edge technologies and cost-effective equipment
Visit SinoFoldingCarton 2017 to study status quo and future trends of folding carton industry; evaluate potentiality in business expansion to the carton market
Visit China Packaging Container Expo 2017 to explore 10,000 kinds of packaging designs and the trending techniques
Meet with the R & D and purchase decision makers of the packaging industry to expand networks and to catch business opportunities
For press information, please contact:
Sinsia Xing
Reed Exhibitions Shanghai Branch
Tel: +86-21-2231 7065
Fax: +86-21-2231 7183
Email:sinsia.xing@reedexpo.com.cn