The SPA's 100th Conference held at Tewkesbury Park on Monday 14th October was a resounding success!
This celebration of 35 years for their UK Sheet Plant Association was officially opened by Tim Gray, Chairman of the SPA, who handed over to Richard Jarrett of SH Fiske, previous chair of 10 years, to give his own observations on the progress the Association has made.
Tim Gray, Chairman of the SPA.
The packed agenda covered a wide variety of industry topics, starting with a review of the first UK Corrugated & Print Show in Liverpool earlier in the year.  Brexit featured heavily on the agenda with an update from Andrew Large of The CPI, talking about the risks involved in a no deal Brexit.  Arjan Geveke, representing the government department for Business, Energy and Industrial Strategy advised members on specific aspects regarding Brexit where their businesses may need to act. 
Jon Clark from BPIF Cartons lifted spirits in the room with an introduction to the inspirational TICCIT Initiative (Trees Into Cartons, Cartons Into Trees) aimed at teaching school children about trees, paper, carton packaging, recycling and composting - over 100,000 children have now taken part.
Andrew Barnetson of The CPI unveiled plans around the 'Boxing Up Christmas' 2019 campaign and Neil Osment of NOA PRISM shared his regular corrugated industry update.
Specially invited speaker, Sian Sutherland of 'A Plastic Planet', announced to delegates that they were 'sitting on a goldmine' (as packaging manufacturers) and that 'the time is now'.  Sian's inspirational presentation set off some interesting debates at dinner around single-use packaging.
The SPA was delighted to welcome Angelika Christ, Secretary General of FEFCO, whose presentation entitled "One and a half centuries of Corrugated Packaging: Are we a sexy sector" was packed with interesting statistics and facts from the industry.  Finally, Bob McLellan, formerly of Logson, MacFarlane and Swanline, offered his words of wisdom on a lifetime in the corrugated industry.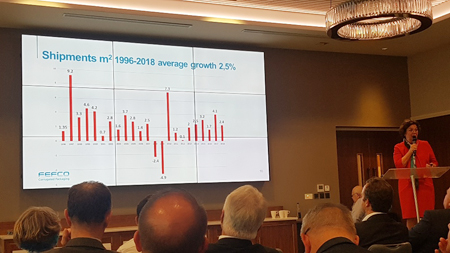 Angelika Christ of FEFCO.
Videos of all SPA presentations are shared on the UK Sheet Plant Association SPA News YouTube channel.  In addition, members have exclusive access to presentation slides via the SPA website.
The SPA 101st Conference takes place on 27th January 2020 and is themed 'Bring a Colleague' - there will be incentives to encourage members to bring along junior members of staff as part of the ongoing program to continuously inject new blood into the membership of the Association.
Source:
https://www.thepackagingportal.com/industry-news/uk-sheet-plant-association-conference